---
Water softener in single and double construction with hardness monitoring and regeneration controlled by a sensor, production series "Soft Star"
How It Works
---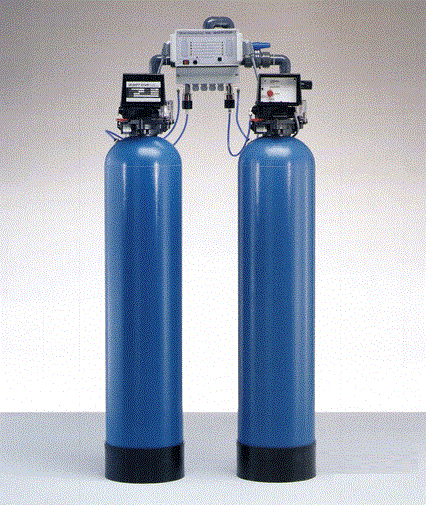 Water softening (removal of calcium and magnesium ions) is based on reversible ion-exchange. At this, hardness formers get bound to ion exchange resins and as a result, they get filtered out of the water. When the absorption capacity of the ion exchange resins is exhausted, the regeneration process is activated. The ion exchange resins is regenerated by means of normal saline. With the flushing water the Hardness formers get washed into waste water. Now the process of softening can start anew. Regeneration is virtually limitless repeatable.
Advantages
---
best possible utilization of soft water capacity

self-monitoring

full remote control possible

emergency operation available in case of failure of one installation's side (only double constructions)

shutdown in case of failure of the plant

after long-term operation no readjustment of soft water quantity required

self-adaptation to changing water hardness of feed water

"Soft Star" systems meet the highest standards with regard to industrial use, security of supply and availability

optimum saftey due to separate installations (alternating operation)

maintenance of one part of the installation possible during the other one's operation
Applicabilities
---
The equipment is usually assembled from standard components complemented by the patented soft water sensor system. Possible applications are most of all applications which need continuously secured supply with soft water and permanent serviceability. Remote-controlled report of all relevant operating data is possible, due to the SE or DSE controller.
Realization of plants with capacities from 50 to 300°X m³ and flow rates up to max. 3.5 m³/h achievable.
Hardness Measurement
---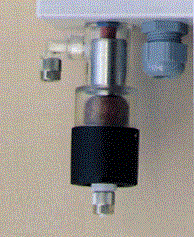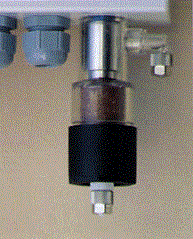 water hardness sensor indicates "soft"         water hardness sensor indicates "hard"
"Look Inside System"
Water hardness sensors are made of transparent plastic. As a result, the condition of the equipment is directly readable on the water hardness sensor.
Operation
---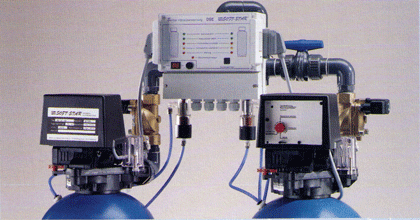 Operation and control is simpler as with any other technology.
Refill of salt suffices. In case it is forgotten, the controller signals a fault.
Salt deficiency and other faults of the supply with soft water or regeneration will be recognized immediately.
In case the plant is not able to deliver soft water anymore, because both resin tanks are exhausted, a signal indicates "lack of soft water".

Texts and graphs published with the kind permission of the supplier.