---
SERIES 200 – disc filters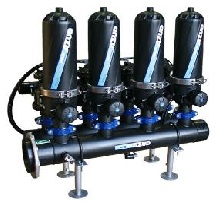 Automatic in-line Self Cleaning equipment with disc filter elements using 2″ valves (Series 200).  High Density Polyethylene manifolds. Easy to install. Maximum resistance and durability. Max flow 2″- 840 gpm).
Modular configuration allows design according to customer preference or space availability.
Automation available in 110 V,  There are special options available for Low Pressure, High Pressure and Sea/Saline water conditions. Also possible to backwash with compressed air, minimizing the water loss during backwash (Air Assist Option – AA).
ADVANTAGES
---
FILTERS ALL KINDS OF PARTICLES
Organic , in-organic, and fibrous
FILTRATION AND BACKWASH OCCUR SIMULTANIOUSLY
Only a portion of the water is used for backwash in multi disc filter element systems.
LARGE FILTRATION SURFACE AREA
DISC DESIGN
The discs are available in Multi-Groove (MG) or Wall type depending on the application they are needed for. The MG discs provide depth filtration resulting in very high efficiency at a given micron level.
The width and support structure of the discs provided high resistance to the pressure differential across the filtration surface.
The superior quality of the injection molding of the discs provides uniformity of the discs which results in high efficiency at the selected micron level.
HELIX SYSTEM
The Helix is a centrifugal action device on the inlet to the filtering element which forces the inlet water to spin around the discs inside the filter housing, this forces the larger particles away from the discs reducing the accumulation of solids on the filtration surface, thus optimizing the performance of the discs and reducing the frequency of backwashing
MODULAR, VERSATILE, COMPATABLE
The system permits a wide range of configurations with a minimal number of components. Vertical or horizontal design.
AUTOMATIC CLEANING OF FILTER ELEMENTS
Only one station backwashes at a time.  Othe elements continue filtering, supplying filtered water to the system.
See technology below
AIR ASSIST
AA  backwashing option available on all models.
LOW MAINTENANCE
No tools required. Very few warring parts
MANUFACTURED IN PLASTIC
The patented design and the materials used in manufacturing the filters guarantee a long life with high resistance.
The maximum operating pressure and temperature of the standard equipment is 145 psi at 140⁰F.
WATER AND ENERGY SAVINGS
Amount of water used during backwashing cycle is significantly less than with other types of automatic cleaning filters. Time between backwashing cycles is increased by the design of the Helix system.
QUALITY CONTROL
All products go through stringent quality control before leaving the factory.
FACILITATES EASY TRANSPORTATION AND INSTALLATION
Equipment is shipped pre-assembled (Only limited assembly requird on site)
ADDITIONAL INFORMATION
---
Backwashes only one station at a time. The remaining stations stay in filtration mode and continue to supply clean water to the process
Available in 3" through 8″, with flows up to 1125 gpm (with 130µ discs).
Maximum Operating Pressure: 145 psi
Maximum Operating Temperature: 140⁰F
Disc options – 5µ, 10µ, 20µ, 50µ, 100µ, 130µ, 200µ and 400µ.
TECHNOLOGY
---
  
TECHNICAL DATA
---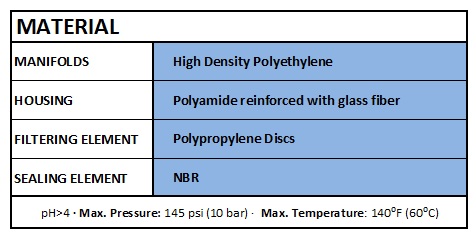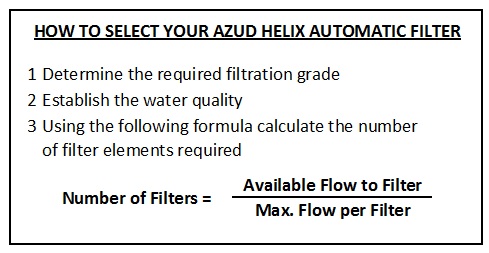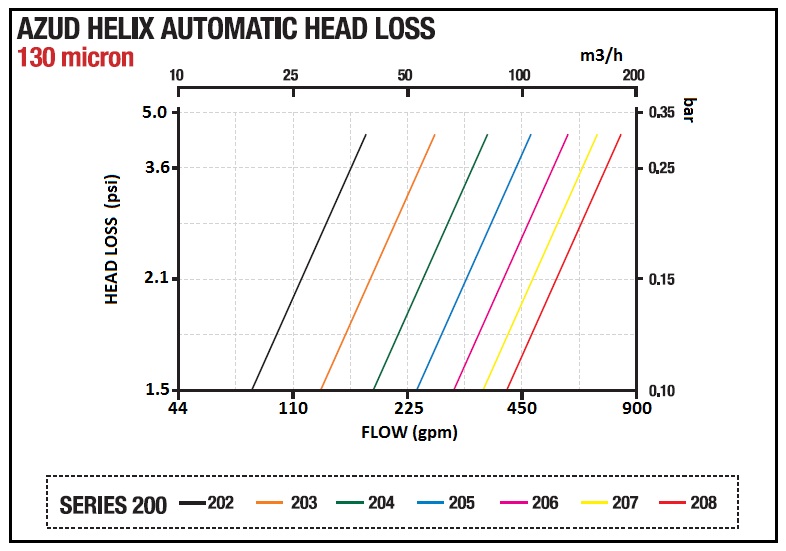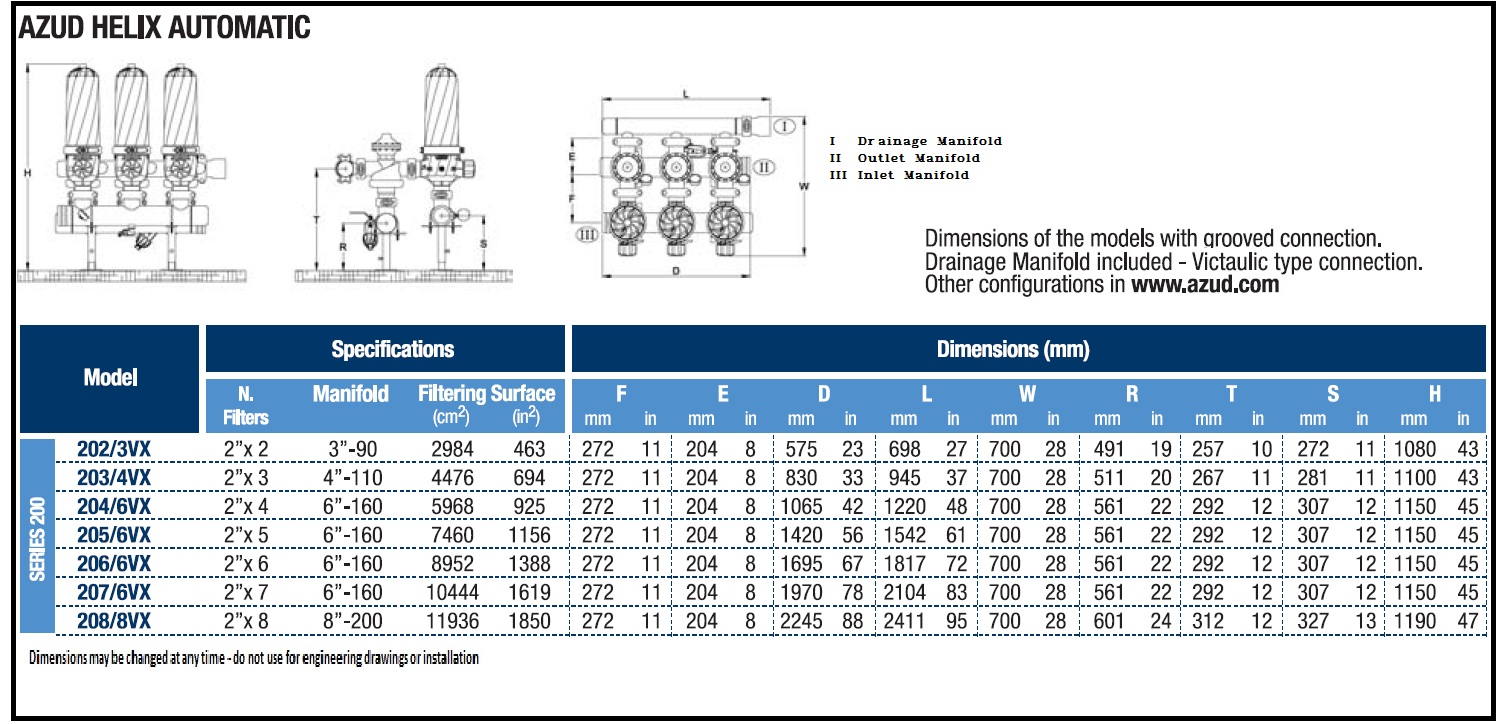 Texts and graphs published with the kind permission of the supplier.