---
Series LCM - disc filters
Semi-automatic backflushing filter systems with max flow 40 - 160 m³/h
In line equipments with grooved discs filtering elements, High Density Polyethylene manifolds.
ADVANTAGES
---
Disc Filtration. Maximum safety. Its studied
design and the materials used in its manufacture
guarantee a long life and high resistance.

AZUD HELIX System.
Optimization of the performance and minimum
frequency and intensity of maintenance labours.

Self-cleaning filtering element. The LCM
equipments allow to house both manual filtering
elements and DF-DISC, the automatic filtering
device.

Modularity. Versatility, compatibility. The system permits a wide range of possibilities with a minimal number of components.

Maximum facility of transport and
installation. Already assembled equipments.

Manufactured in Technical Plastic.

Low Maintenance. Without tooling. Maximum
resistance, with movable parts not susceptible to
wearing due to a continuous operation.

Water and energy saving.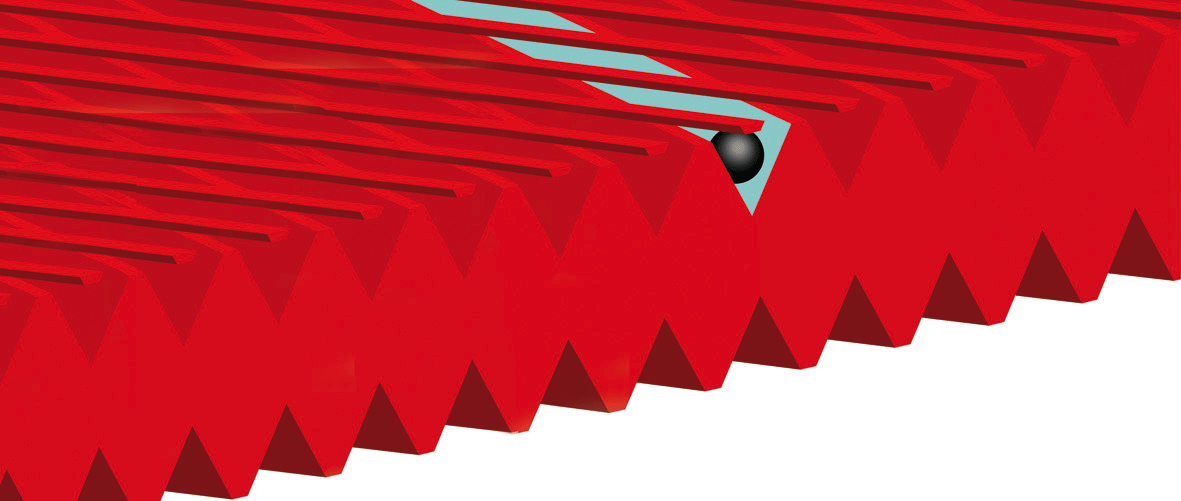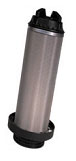 disc element                                 details of disc                           mesh element                     details of mesh

ADDITIONAL INFORMATION
---
AZUD HELIX LCM equipment backflushes
without any interruption of water supply to
the crop. The backflushing is sequential:
One filter is in backflushing stage while the
rest of the equipment is in filtration stage,
supplying water to the installation.

FILTRATION STAGE: The helix generates
a centrifuge helical effect, which moves
away from the discs the particles in the
water.

This is translated in a lesser frequency and
intensity of the maintenance labours, with
the subsequent saving of water.
Through the discs is made the in-depth
filtration process.

BACKFLUSHING STAGE: When the operator
change the position of the two valves
from the manual backflushing activation
kit in one of the filters, the filtered water
comes into the filter in the opposite direction
through the filtering element structure.
The solids previously retained during filtration
stage are expelled from them the discs
and drained outside through the drainage
manifold.
Technical Data
---
Flow Rate

 
2" Automatic Filter 20 micron
8 m³/h  x  number of filters
2" Automatic Filter 50 micron
12 m³/h  x  number of filters
2" Automatic Filter 100/ 130/ 200 micron
20 m³/h  x  number of filters
 
 
filtering surface/ element
1.492 cm² / 1.699 cm²
maximum temperature
60°C
pH
> 4 pH
operating pressure min.
~ 4 bar
operating pressure max.
10 bar

backflush pressure min.

(for automatic elements)

3,0 bar at 130/ 200 micron

3,5 bar at 100 micron

4,5 bar at 20/ 50 micron

 
 
required flushing water approximately
2,5 l/s at 130/ 200

µ

backflush time per element
8-20 s/ element
manual elements
occasional opening of the filter required
 
 
Materials
 
manifold
polyethylene HD
container
fiber-reinforced polyamide
discs
polypropylene
gaskets
EPDM or to customer specifications
valves
PVC, manual
valve gaskets
EPDM or to customer specifications
 
 
backflush controller
dropped
 
 
Head Loss
---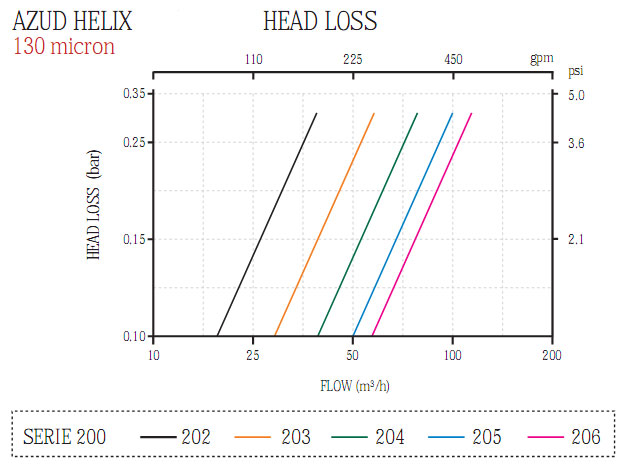 Texts and graphs published with the kind permission of the supplier.